LAKE BOGA YACHT CLUB Inc

Location
The Lake Boga Yacht Club is situated on the foreshore of Lake Boga, a fresh water lake, oval in shape approx 5km long x 4km wide with no obstructions and a large grassed foreshore making it ideal to rig yachts on. Lake Boga is located in North West Victoria 300 km north of Melbourne and 16 km South of Swan Hill.
The Club
The Lake Boga Yacht Club sails most Sundays from mid September through until the end of April, several classes of yachts are sailed regularly including Mosquito, Arrow, Paper Tiger, Impulse, Sabre, Fireball, Mirror, Pacers and Microns.
The club participates in Yachting Victoria's annual Try Sailing Days, where an open invitation is put out to the general public to come to the Yacht Club and go for sail, either with a member or on their own if they are familiar enough with how to sail a yacht.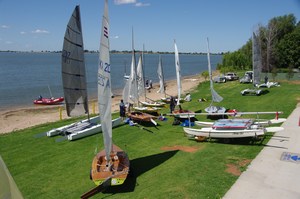 The club has several yachts which can be used by people interested in trying sailing before purchasing their own yacht, suitable second hand yachts can quite often be purchased from other club members or sourced from outside the club with the helpful advice of club members. Members enjoy the convenience of being able to store their yachts at the club in secure sheds for a minimal yearly fee.
History
The Lake Boga Yacht Club was formed in 1936, the club house then was an old tin shed at the south end of the caravan park, in 1950 it moved the tin shed to the north end of the caravan park, in 1962 the tin shed was moved again to where the club house is today.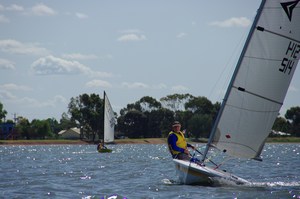 The current 2 storey club house which was built in the mid 70s has undergone several upgrades over the years, also boat storage sheds have been added and the shower/toilet block has been extended.